Cooker Spare Parts Help Centre
Below you will find a guide on how to obtain the correct model details to locate the parts that fit your appliance, a form you can fill in so we can assist in finding the correct part you need and some useful tips and advice.
How do I find details of my model?
It is important to have the correct model details from the cooking appliance that you are trying to fix. Incorrect details can result in incorrect parts as many parts from across our ranges can look very similar.
Step 1

- Find the Data Plate or Badge
On every appliance a Data Plate or Badge has been placed to identify the cooker, hob, oven or cooker hood that you are trying to fix. In some cases manufacturers may have placed a duplicate data badge on the user manual that was provided with your appliance.
Step 2

- What numbers do I need from my Data Badge?
Every manufacturer has a different set of numbers, codes and descriptions that indicate which version of an appliance you have. Please select your brand of appliance from the following drop down list to find out what information you need to get the right cooker spare part.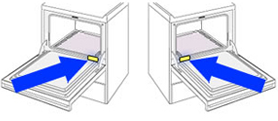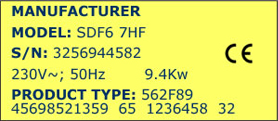 Step 3

- I've got my cooker details
Now search our system for your model to view the parts that fit your appliance or run a part number enquiry with one of our experts and let them find the part that you need.
Cookers & Ovens

1. Behind the main oven door.
2. The frame behind the door.
3. The sides of the door near the hinges.
4. Behind any other doors.
5. The base of the cooker behind the door.
6. The side and back panels.
Hobs

1. Underneath the hob - viewable by removing
the kitchen unit drawer directly below (if applicable).
2. On the top edge of the appliance.
Cookers & Ovens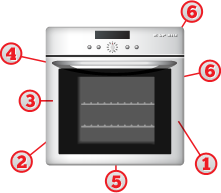 Hobs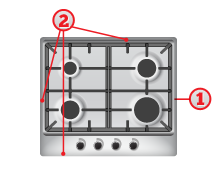 How will a Part Number Enquiry help me?
Can't find the right cooker part? Why not let one of our Cooker Spare Part experts have a look for you. We may not have loaded your cooker, oven, hob or cooker hood onto our website yet, so please fill in your appliance details below.
What part do I need?
If your cooker, oven, hob or cooker hood isn't working and you're not sure why, it may be due to a common fault that may be relatively easy to detect. Below are examples of faults that our Cooker Spare Part experts come across on a regular basis.

Warning - if your appliance is gas, do not try to replace the part yourself. This should only be done by a gas registered engineer. To find your nearest gas safe engineer please click here.

Warning - if you are attempting to change any part of an electric cooker, hob or oven, please ensure that the appliance is switched off and unplugged from the mains. If you are unsure at any time whether the appliance has been removed from the electrical supply please contact an experienced engineer for advice.
The oven fan is turning but the oven is cold.
You can hear the fan in your oven turning but it's not getting hot, it looks like your fan oven element, base element or top oven element has become faulty or blown. Not to worry just enter the manufacturer and model number of your appliance in the search tool and narrow the search to oven elements to find the correct cooker element for your appliance.
The oven or cooker is not getting hot enough to cook.
If you find that your electric cooker is not getting hot when you set the appliance to a certain temperature and you can even hear the circulating fan motor turning this could be due to the fact that the cooking element that produces the heat has become faulty. Another possibility is that a thermal cut out (fuse) has become faulty within the appliance and not sending a current to the element to heat the oven.
The light in the oven has gone out.
This scenario is very common and is easy to get fixed. Here at Cooker Spare Parts we stock a range of genuine and cost saving alternative cooker light bulbs and oven lamps. See our Lamps, Bulbs & lights section for more details.
The cooker is taking longer to cook than it used to.
This can be due to the escape of heat from through the oven door and in most cases you can feel the heat coming out from around the cooker door. The reason for this is that the cooker oven door seal has become faulty and is no longer creating a tight seal around the oven door frame. You can check this by trying to feed a piece of paper between the frame of the cooker and the door seal when the cooker door is closed. If the paper moves freely in and out it's time to change the door seal which can be a simple process. Visit the Door seal section of our website, where you will find an array of genuine door seals as well as cost effective universal cooker door seals.
The oven is cooking much faster than it used to and burning everything.
This looks like your cooker is no longer regulating the temperature in your oven and points towards a faulty thermostat. A cooker thermostat keeps the oven at the pre-set temperature and when it stops working correctly it can no longer keep the temperature at the desired setting. Whether it's a Gas thermostat or and electric cooker thermostat we carry a huge range of both, just enter your model number into the model search and find the right model number for you.
Safety Advice & Maintenance
Here at Cooker Spare Parts, we think that safety is paramount when working on any appliance and therefore it is important that the right safety precautions are taken. We always recommend calling an experienced engineer to carry out any repair of work on household appliances. However if you feel that you are that a competent and an able person that can carry out any repair work please ensure you read the following information:

Maintaining your cooker, oven or hob can extend the life of your appliance and can ensure that your appliance is kept looking in pristine condition. Here at Cooker Spare Parts we carry a range of professional cleaning products that can help keep your appliance looking like new. The best step of course is to avoid the build-up of grease, burn on foods and grime by using quality cooker, oven and hob degreasing agents and wiping the appliance down after use. It is also a good idea to ensure that pots and pans are covered to reduce spillages and to not let things boil over. When it comes to your oven a great tip is to line your oven with an easy clean liner that will save the base of your oven.

However if your hob already has a layer of burnt on food not to fear here at Cooker Spare Parts we carry a range of professional ceramic hob cleaners, hob degreasing agents and for those hard to remove stubborn stains we carry glass scrapers.

If on the other hand it is your oven or grill that is looking tired we carry a range of oven cleaners and oven care products that will bring life into your oven. We also carry stainless steel cleaners that will bring the shine back to your appliances. If you just want to take the years of your appliance of continue to care for the cooker, oven or hob then please click here to see our great range of cleaning products.